If we were asked to name the most beautiful place on earth, we'd instantly name the Chamba Valley. A place so lovely – it's called the vale of milk and honey – can only exist in one's imagination..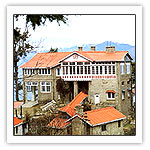 And in Himachal, of course! Sandwiched between the Dhauladhar and Pir Panjal ranges, this exquisite valley's most popular hill town is DalhousieThis well developed cantonment town is perched on the lower Himalaya of Chamba district, the north-westernmost district of Himachal Pradesh. It is not surprising that the heat-fearing British built 80 hill stations within a span of just 30 years. Dalhousie is one of those colonial retreats, tucked away in greens and crisp air, and at times smothered in white. Named after the Marquess of Dalhousie, a British Governor General, this resort came up as the solution to the man's search of leisure. Thanks to the whim of Brits like him, our delightful hill stations got a head start right away.
For best stay in dalhousie you can stay at Snow Valley Resorts , Dalhousie . This is best hotels in dalhousie and offer good dalhousie hotel with best facilities.
Dhabas For The Adventurous Gourmet
This is for those who believe that a good holiday also means good food. Apart from the hotel restaurants in Dalhousie, there are numerous places to eat, but most of these are high on price and low on quality. You could try out the dhabas (inexpensive roadside eating joints) instead. They are just about everywhere – in any place in the length and breadth of the country. Although roadside, almost everybody haunts them for good, cheap food. In Delhi especially, dhabas are just the place for a quick meal of dal-chawal-subzi-roti (the common north Indian meal of rice, lentil broth, dish of vegetables and bread).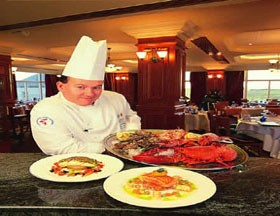 People from 'fine' families still shudder at the thought of actually going and eating in a dhaba, but no one has any qualms about ordering take-out meals from there. The reason for their popularity is simple: these modest 'restaurants' turn out surprisingly good food and the advantage is that it is fresh and cheap. With time, the dhabas have gone hip and now also include 'buttertoast', sandwiches, fries, Chinese food and much more. So if you can overlook the rather shabby surroundings, the dhaba is a very much a good-deal food outlet.
Anyway, in Dalhousie these dhabas are best value for money. Moreover, the dhabas here are a cut above the usual Indian dhaba. Amritsari, Sher-e-Punjab and the Royal Dhaba (on Court Road) are definitely worth checking out. Restaurant Preet Palace on Subhash Chowk offers Mughlai, Kashmiri and Chinese cuisine at reasonable prices. Moti Mahal, New Metro and Lovely are some of the other restaurants you could try. One of the best restaurents in the town is at Snow Valley Resorts , Dalhousie